RIPE NCC Open House: Community Projects Fund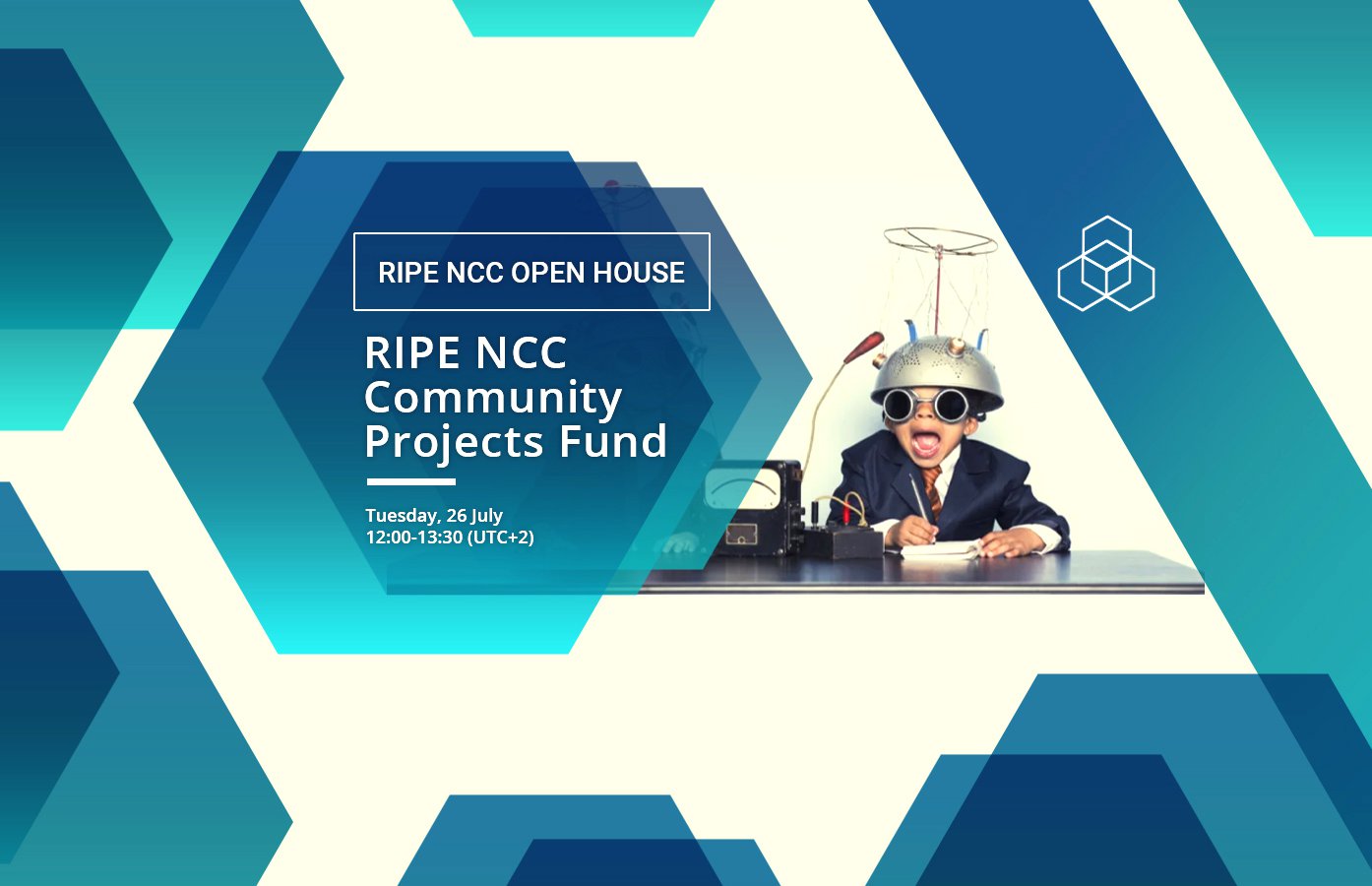 RIPE NCC Open House: Community Projects Fund
Join us for the first in a series of RIPE NCC Open Houses about the RIPE NCC Community Project Fund (CPF) and its recipients.
Tuesday, 26 July | 10:00-11:30 UTC |12:00-13:30 CEST
During these Open Houses, we'll hear from CPF funded projects with a series of short presentations from previous recipients, along with members of the selection committee and a Q&A session.
You can also join and ask any questions you have about the application process if you, or your organisation, is working on a project that fits the criteria and need some financial support to get it off the ground or keep it going.
The CPF has supported a range of projects and innovative ideas over its 25-year history and we formalised these efforts through the RIPE NCC Community Projects Fund. We know there's no shortage of brilliant minds in the Internet technical community working on groundbreaking projects but securing funding to support these projects can be challenging.
You can still apply for the Community Projects Fund 2022 until 7 August 2022.
Speakers
Glenn C McKnight, Virtual School of Internet Governance (VSIG)
The VSIG course "Introduction to Internet Governance (VSIG)" is a free and multilingual online interactive training programme open to anyone, anywhere, with ten core modules.
Guido Franken, Cryptofuzz
Cryptofuzz is an open-source tool that uses fuzzing to find bugs in cryptographic libraries. It compares the result of two or more libraries performing the same operation (like computing a SHA256 digest, or encrypting a message using AES, or computing the modular exponentiation of some numbers).
Chris Adams, A Carbon-Aware Internet
The Green Web Foundation proposed the project 'A Carbon-Aware Internet'. Using real-time data about electricity around the world, they will annotate network
connections with carbon-intensity. With this information, any digital infrastructure provider can move their compute workloads to greener regions.
Xenofontas Dimitropoulos, ARTEMIS
This project will extend the ARTEMIS open-source tool that performs real-time detection and mitigation of BGP prefix hijacks. The project will enrich the functionality of ARTEMIS to evaluate and monitor the impact of a BGP prefix hijacking incident on the data plane.
Romain Fontugune, Internet Health Report
The Internet Health Report leverages data collected by large measurement platforms (e.g. RIPE Atlas, RIS, and RouteViews) to automatically pinpoint connectivity issues or routing changes that may have detrimental effects on other networks.
Moderator: Alastair Strachan